In Pictures: Surviving Khachkars from Djulfa
Above are pictures of the five Djulfa khachkars that survive in the yard of Armenia's St. Etchmiadzin Cathedral. Courtesy Simon Maghakyan, 2007.
More Djulfa khachkars preserved at Armenia's St. Etchmiadzin cathedral. Source unknown.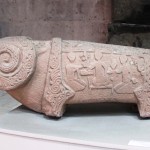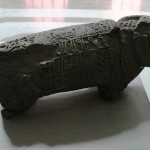 A ram-shaped tombstone with Armenian inscription from Djulfa on display in the Sardarapat Museum located in Armenia. Courtesy Simon Maghakyan 2010.
Images of a Djulfa khachkar at an Armenian church in Geneve, Switzerland. Courtesy Ara Simsar, 2007.
A Djulfa khachkar at the Armenian Church in Tabriz, Iran. Courtesy Nshan Topouzian, 2007.

A Djulfa khachkar at the Hermitage Museum of St. Petersburg, Russia. Courtesy Argam Ayvazyan, Jugha, 1990.

A Djulfa khachkar in the Yerevan Brandy Company. Courtesy Argam Ayvazyan, Jugha, 1990.

Two Djulfa khachkars photographed in the beginning of the 20th century in the "Museum of the Caucasus." Their current whereabouts are unknown.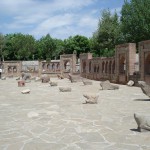 Ram-shaped monuments, some possibly from Djulfa, displayed at the Open Air Museum in Nakhichevan City. Via Panoramio, 2007.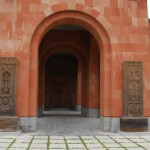 Two replica Djulfa khachkars at the Surp Hovhannes (St. John) church in Yerevan. Opened April 2011. Courtesy Panorama.am.
Replica (mostly) Djulfa khachkars at Surp Amenaprkich Cathedral in Gyumri, Armenia. Courtesy Nelli Shishmanyan, 2012.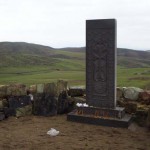 Replica Djulfa khachkar, crafted by local resident Armen Yergenyan, in the Berdavan village of northeastern Armenia. Unveiled on April 9, 2011 on a hill at the Armenian-Azerbaijani border. Courtesy of Tesankyun.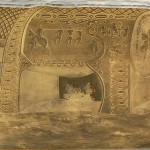 Copper etching of Manuk Nazar's ram-shaped tomb in the St. Lazarus Museum (Musée de San Lazzaro) in Venice, Italy. Courtesy Digital Library of Armenian Literature.